About
Grover Ice
STAY COOL, GET OFF THE COUCH AND ON TO THE ICE!
Grover Ice is Omaha's newest, "slickest" privately owned ice rink. Now open to the public, Grover Ice is ready to accommodate whatever individual, family, private or business functions you may have – and make them all memorable! You're invited to stop by. Conveniently located right off I80 at 60th & Grover Street.
Grover Ice is privately owned and operated by local individuals with a vested interest in contributing to the overall growth and entertainment offerings in Omaha and the surrounding area.
Interested in learning more? Don't be shy.
Contact Us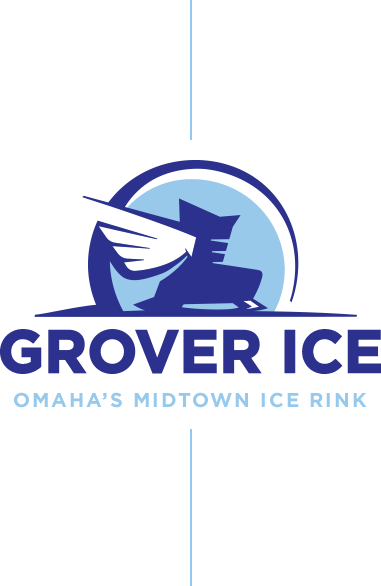 Learn to Skate
We have classes open to skaters of all ages and abilities!
View Schedule
Parties & Events
Grover Ice offers a variety of party packages to fit every groups' needs. From birthdays to corporate outings we will make your event memorable.
View Schedule
Broomball
Home of the Omaha Broomball Club, Grover Ice has the best broomball equipment available to rent.
View Schedule
Open Skate
Come have some fun on the ice during any of our open skate hours.
View Schedule
Amenities
Located in the former Scoco Supply Building in midtown Omaha, Grover Ice has been renovated top-to-bottom and designed with you in mind! Stop by and see for yourself all that we have to offer. Amenities include:
State-of-the-art locker rooms
Spa-like showers
Behind-the-glass rink-side viewing
Furnished party rooms
Kitchen (available for parties)
Full service food and beverage bar
HDTVs
FREE WiFi
Hours &
Pricing
OPEN SKATE HOURS
Come on down for some really cool fun on the ice during any of our open skate hours. Whether you are just starting out or are looking to practice your technique. Seasoned veterans and beginners will all find hours of exciting fun at Grover Ice!
Monday


1:00pm – 3:00pm

Friday


1:00pm – 3:00pm
6:00pm – 7:30pm
9:00pm – 10:30pm – THIS TIME TEMPORARILY CANCELLED DUE TO COVID

Tuesday


1:00pm – 3:00pm

Saturday


12:45pm – 2:15pm

Wednesday


1:00pm – 3:00pm

Sunday


2:00pm – 3:30pm

Thursday


1:00pm – 3:00pm
STICK AND PUCK HOURS
Do you want to practice your stickhandling, shooting, and passing skills?  Our Stick and Puck times are the perfect opportunity for both young and experience hockey players to get some extra practice.  Private lessons are permitted during Stick and Puck times.  Helmets are required, and are also available for rent.
Monday


4:00pm – 5:30pm

Friday


4:00pm – 5:30pm

Tuesday


4:00pm – 5:30pm

Saturday


Varies Weekly

Wednesday


4:00pm – 5:30pm

Sunday


Varies Weekly

Thursday


4:00pm – 5:30pm
SKATE RENTAL


Grover Ice stocks figure skates and hockey skates; sizes are available on a first-come, first-serve basis. If you own your own skates, feel free to bring them.

SKATE SHARPENING SERVICES

Bring your own skates to Grover Ice for an edge: our highly trained staff will sharpen skates on our top-of-the-line Blademaster machine for only $7.
LEAGUE HOCKEY & BROOMBALL
For those looking for a little more competition, Grover Ice is home to several area hockey and broomball leagues. Adult leagues include Omaha Broomball Club, Hockey Finder and the MCHL. Youth leagues include Omaha Hockey Club. Contact us for help finding the right league for your age and skill level.
View Schedule
LEARN TO SKATE & FIGURE SKATING
Our classes are designed to teach skating skills in an environment focused on fun! Achievement awards will be given at the completion of each session. View flyer.
ADMISSION PRICES
Children

(12 and under)

$6
Adults

(13 - 55)

$8
Seniors

(56 & over)

$7
Skate Rental
$4
Helmet or Stick Rental
$3
Stick & Puck
$12
Freestyle
$12
GROUP RATES
Bring your friends! Special group rates are available for parties & events. Reservations must be made at least one week in advance to receive discounts.
Email Evan for more information.
#GROVERICE
Tag your photos #GROVERICE to add them to our gallery. Click on a thumbnail to view the full gallery.
Parties &
Events
Bring your family, bring your friends, bring your co-workers! Grover Ice is the coolest place to host your party or special event! With fully furnished party rooms and an available kitchen, Grover Ice is ideal for:
Birthday parties – Click to learn more
Appreciation / acknowledgement parties
Team building
Church groups
School groups
Family get-togethers
Corporate Outings
Why not plan some fun into your special event by bringing it to Grover Ice – where you will find all the right facilities to accommodate your functions.
Contact Evan Schinasi for information & reservations:
Our
Sponsors
Grover Ice would like to thank the following businesses for investing in us and helping us get you out on the ice!
Contact
SEND US A MESSAGE
Fill out the form below to quickly say hello!
ADDRESS INFORMATION

6171 Grover Street
Omaha, Nebraska 68106
Get Directions

PHONE

402.991.7982

EMAIL